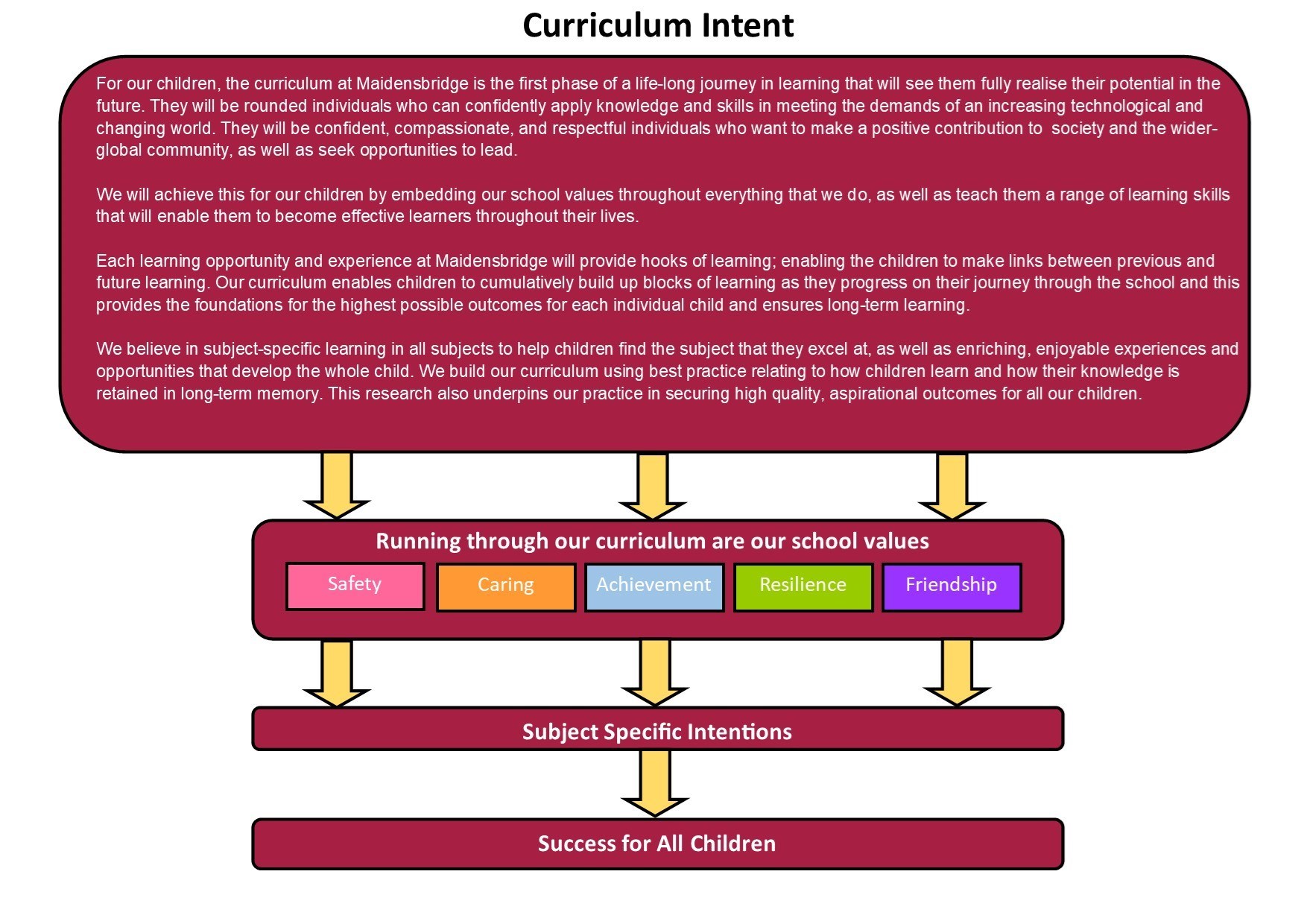 What does your child learn at school each day? Our curriculum is ambitious, challenging and well thought out to enable the children get the highest standards of teaching and experiences with every subject that they learn.
At Maidensbridge we believe in providing a curriculum which is broad and balanced and children receive the highest of standards, regardless of which subject they are learning. We have high expectations for our curriculum and we have sourced and written a curriculum for our children that has utilised the knowledge of experts in each specialist area of the curriculum. The resources and planning we use, support the teachers with ensuring we teach subject specific content at a high level of understanding, in order to keep challenging our children at whichever level they are working at. Preparing them for subject specific learning that they will encounter in their secondary education and beyond, as well as opening their eyes to the jobs that these subjects may link to.
To view our curriculum by subject please use the buttons below and you will see how each subject is planned out based on progression and a well thought out sequence to ensure that children can build each year on previous knowledge, thus helping them to learn more and remember more.
In addition to the formal curriculum, we also provide many enrichment activities to develop children in areas such as arts, sport, citizenship and as a result the school is always a busy and vibrant place. There are not many weeks where something new and exciting is not being experienced!
Every class, every term has the opportunity to go to Forest School for essential outdoor learning, as well as developing their culinary skills in our children's kitchen through our cooking curriculum. Our children learn each year how to create a 3 course meal, by creating starters in the autumn term, main meals in the spring and puddings in the summer!
| | |
| --- | --- |
| Curriculum Subject Lead | If you would like to more information about a specific part of the curriculum, you can also speak to the specific curriculum lead. |
| Miss Cleghorn | English |
| Mrs Morgan | Maths |
| Mrs Thomas | Art, DT, RE & Music |
| Mr Pearson | Geography, History & MFL |
| Mrs Mason | Science, PHSE & Forest School |
| Mrs Nicholls | Computing & PE |
Please see our expectations and subject overviews (by year or subject) below for further detail.